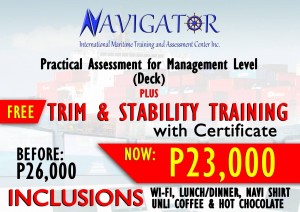 Practical Assessment for management level (deck) Plus
* FREE training for Trim and stability course using our computers (practice by scenario's) schedule will be given after the enrollment, (Certificated)
* Familiarization for (Navigation) using our simulator (practice by scenario's) schedule will be given after the enrollment.
* Free Wifi, Lunch/Dinner, Navigator Shirt and unlimited coffee and hot chocolate.
Please bring the following requirements for enrollment.
1. MLC Updating function 1 and function 3  or New MLC Function 1 to 3 (Xerox Copy), bring also the original certificate
2. Permit by EAD Marina
3. 2 Valid ID Picture (2×2) with Shoulder board based on COC License.
for available schedules click here